Enamel & Vermeil Silver Gorham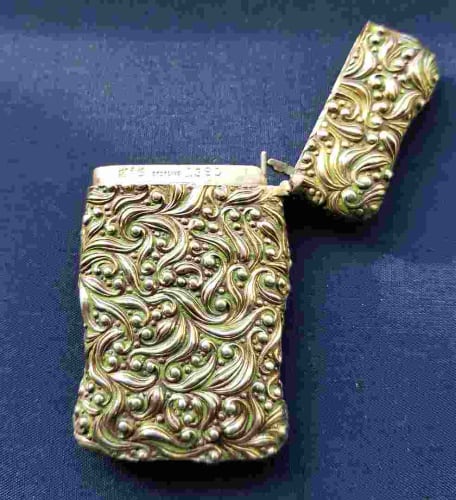 Maker: Gorham Mfg. Co., Providence, RI
Condition: Excellent
Notes: An enamel and vermeil sterling 2" x 1 ½" x 3/8" match safe made by the Gorham Manufacturing Co., Providence, RI, in 1897, production #1308.
It is only one of four with this type of granulation ever made by Gorham. It is in excellent condition. (Gorham Match Safes, 2009, Shapiro, Neil)
Swirling raised lines have granules inter-spaced between the swirls. This technique of granulation is very old but difficult to do. It was revived as a decoration on jewelry after the excavations in the first half of the 19th century by the Italians.
The Gorham artisans added complexity to the work by carefully enameling the surfaces between the swirls and the granules. The green enamel is a subtle compliment to the vermeil (layer of gold is over a sterling body).
It is not gold plated.
For inquiries, please send an email to nshapir1@nycap.rr.com and include the ID listed above, or call me at (518) 436-9522.