Sailing Sloop Valkyrie III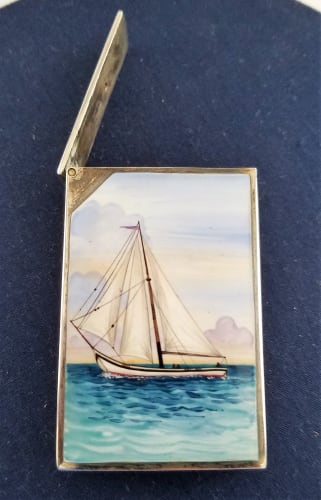 Title: Sailing Sloop Valkyrie III
Material: Sterling & enamel
Made by: Maker's mark is rubbed. It begins with an "S." Birmingham, England, 1895
Condition: Mint condition, intricate chasing on all sides. Engraved date on cartouche , Dec.14th, 1895. Fully marked on case and lid.
Notes: In 1895 the America's Cup, the oldest international sporting contest was held in Lower New York Bay. I believe that this enamel match safe was created by its maker to commemorate the contest between the American champion Defender and the English challenger, Valkyrie III. The three completed legs of the race were controversial and the English challenger withdrew after the 3rd leg and the American sloop was declared the victor. The English lost in a walkover, something never experienced in Cup racing and the race has gone down in sailing history as one of the most famous. The race took place in October, 1885 and the safe was assayed in 1885. The safe was probably enameled in Paris, where many UK enameled safes were done (the silver work was done in the UK.) Since the English boat was favored to win the America's Cup the maker probably began work on the safe and had it enameled in anticipation of a victory by the Valkyrie III. After the Valkyrie III lost the race the maker simply marketed the safe as an unnamed racing sloop. As these boats were created by the billionaires of the time, there were very few in the world, so most people were probably aware of which boat this actually was even though it was unnamed.
Material:
Sterling & enamel
For inquiries, please send an email to nshapir1@nycap.rr.com and include the ID listed above, or call me at (518) 436-9522.