Signed Japanese/Chinese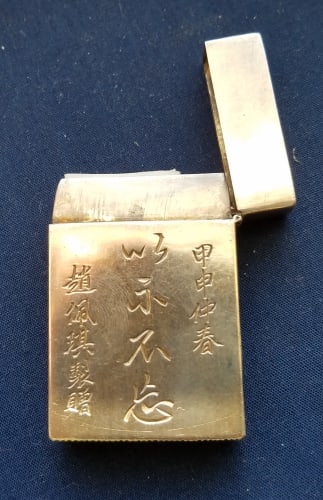 Description: Signed Japanese/Chinese
Material: Silver
Maker: Unknown c. 1900
Measurements: 1 7/8" x 1 3/8"
Notes: The unusual thing about this safe is the two kinds of inscriptions, one in Japanese & one in Chinese. It was probably made in old China because the right line is in an old Chinese calendar system (4 letters indicate a period & a season.) The center line, also 4 letters is in a cursive that I could not get anyone to accurately translate. It may be a proverb. The left line indicates the name of the person who may have made the safe. While the name appears to a Chinese name the bottom 2 letters "seizou" is Japanese and means the product.
The interior of the lid also contains an inscription. (See images)
While a modest exterior the phoenix on a tree limb it is attractive, it is a very unique Asian/Japanese/Chinese piece.
For inquiries, please send an email to nshapir1@nycap.rr.com and include the ID listed above, or call me at (518) 436-9522.